The Ninja Foodi is a must have gadget for the kitchen. It can do it all – pressure cook, broil, air fry, bake, steam, slow cook, dehydrates, sauté, and sear. I'm going to share share with you Ninja Food Must Have Accessories.
We love to use our Ninja Foodi. The Ninja Foodi has been so easy to use and the food comes out amazing every single time. Our favorite staple dish Is Keto Crack Chicken.
If you have yet to get Ninja Foodi, you should seriously look into purchasing one. It can open up a whole new world to cooking. They come in 6.5 quarts or 8 quarts. We have the 6.5 quarts but I highly recommend going bigger.
When we first got the Ninja Foodi, we didn't use any accessories with it.
Once we started to use it more, we were eager to get more creative. This led us to discover so many Ninja Food Must Have Accessories.
There are a ton of accessories out there that you can use with the Ninja Foodi, but below I'm going to list my favorite Ninja Foodi must have accessories.
Before you purchase any accessories, you should always check to make sure they will fit your Ninja Foodi and that the accessories can be used with your Ninja Foodi.
Ninja Foodi Must Have Accessories
Silicone Egg Molds
The Silicone Egg Bites Molds are the perfect accessory to make egg bites as well as so many other things. You can use them for baking and pressure cooking.
Silicone Finger Mitts
The Silicone Finger Mitts will protect your fingers from the hot pans. You can use them with everything you do with the Ninja Foodi. I think they are an absolute must so you don't burn yourself.
Steamer Basket
The Steamer Basket is the perfect Ninja Foodi accessory to steam your veggies and cook your boiled eggs.
Silicone Steam Rack
The Silicone Steam Rack helps to keep your food off of the bottom of the pot.
Foodi Dehydrator Stand
The Foodi Dehydrator Stand is the perfect accessory to dehydrate fruits and meats. It comes with 5 layers so plenty of space to make all of your delicious snacks.
Springform Pan
If you love to bake, you'll want to get yourself a Springform Pan for your Ninja Foodi. You can use this pan to make cheesecakes or even lasagna.
Ninja Foodi Accessory Starter Set
If you don't want to buy each accessory separately, then you can buy an Ninja Foodi accessory kit.
Regardless if you buy a set or purchase the items individually, just double check to make sure each accessory will fit your Ninja Foodi and that the item can be used with the Ninja Foodi.
This is the perfect accessory starter set for your Ninja Foodi. It comes with a variety of accessories as well as some of the ones I mentioned above.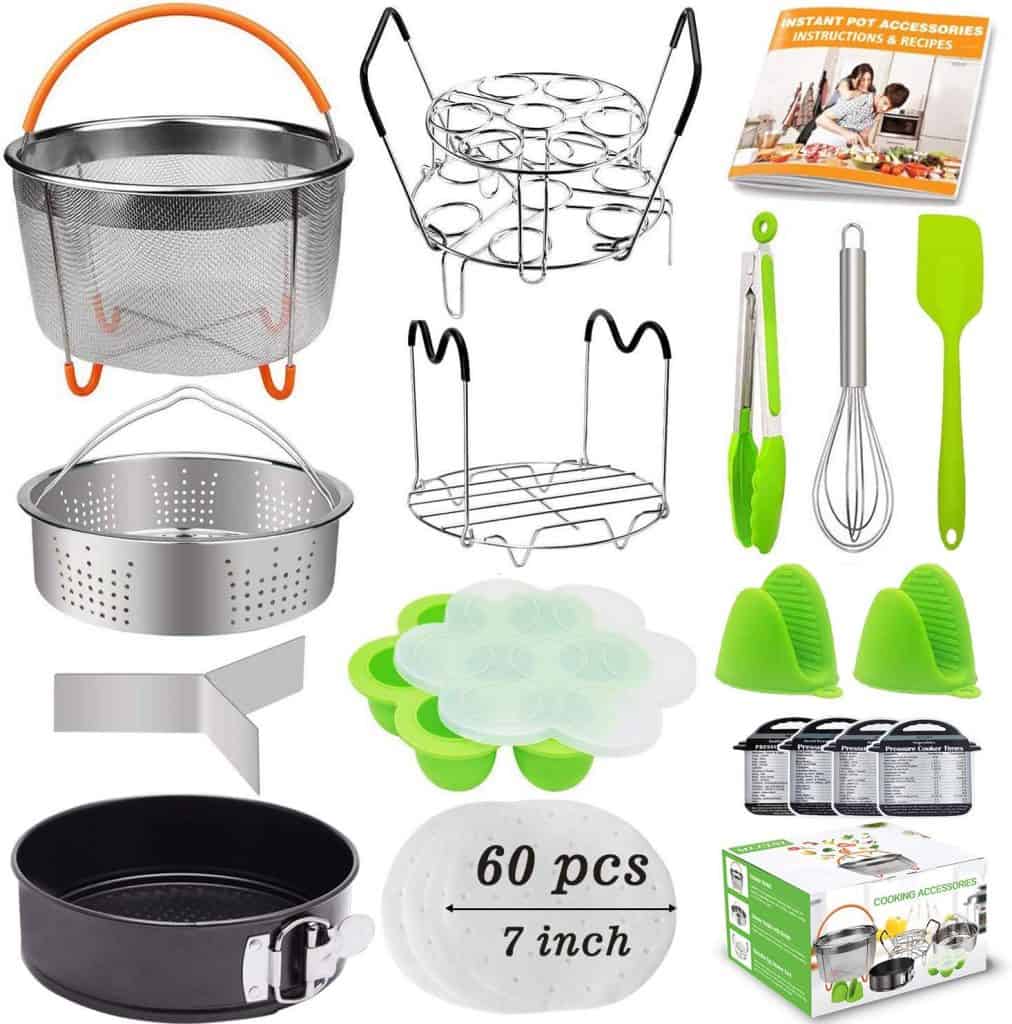 There are so many accessories that you can use with the Ninja Foodi.
I only listed my favorite must haves, but leave me a comment below and let me know what your Ninja Foodi Must Have Accessories are.