A perfectly steamed lobster with melted butter is the ultimate summer meal. It takes just minutes to cook this easy steamed lobster recipe.
Learning how to cook a lobster at home is very easy. Lobster was once the poor mans food, and now it's known as a delicious gourmet dish all over the world.
There really is no better way to enjoy Lobster than to steam it and dip the lobster meat into melted butter. You can also serve it with steamers, which makes it the ultimate summer feast.
The secret to a perfectly cooked lobster is just a couple of ingredients.
WHERE TO GET FRESH LOBSTER
Just about all the grocery stores from Maine to Massachusetts have a tank full of live lobster. If your near the ocean, you can buy lobsters right off the dock from local fisherman.
If you don't live in this area, I know it's possible to order live lobster online from some Maine Companies.
How ever you get your lobster, you want to make sure they are alive. Nothing beats fresh seafood.
Go for 1¼ lbs to 1½ lbs lobsters. The meat is not as tough as larger lobsters.
HOW TO MAKE EASY STEAMED LOBSTER
You only need a few ingredients if you want to make this easy steamed lobster recipe.
In a 12 inch Saute Pan, add 1 cup of white wine (we prefer Chablis), ½ cup of water, and 2 TBSP of salt. Bring it to boil.
Once the salt has dissolved, add the lobsters. You can fit 2-3 lobster.
Cover the lobsters with another 12 inch Saute Pan, inverted. Or you can use your saute pan cover.
Leave on high heat for approx. 10-12 minutes.
While your lobsters are cooking, grab a small saute pan or small sauce pan to melt the butter.
Once the lobster is done, it will be a bright red color.
Once the lobster and butter is done, you can serve right away. We always serve Lobster and Steamers together which a fan favorite summer meal.
Don't forget you'll need some lobster crackers and kitchen scissors to crack open the lobster shells and serve it with sweet corn on the cob.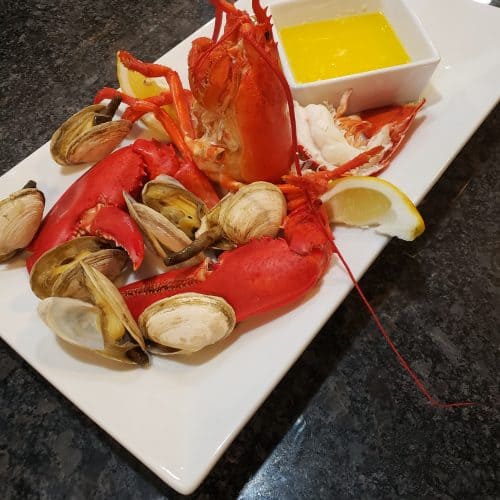 Easy Steamed Lobsters
Steamed lobster is very easy and quick to make at home. All you need is a couple of ingredients to make the perfect steamed lobster.
Ingredients
2

1¼-1½ lbs

Lobsters

1

cup

White wine (Chablis)

1/2

cup

Water

2

TBSP

Salt

2

sticks

butter
Instructions
In a 12 inch Sautee Pan, add the wine, water, and salt and bring to a boil until the salt is dissolved

Add the lobsters to the Sautee Pan. Cover the lobsters with another 12 inch sautee pan, inverted. Leave on high for 10 – 12 minutes until Lobsters are bright red.

In a 6 inch sautee pan, melt the butter. Once butter is melted, split the butter between two small bowls.

Remove Lobsters from sautee pan and plate.
EASY STEAMED LOBSTER