This Homemade Gourmet Reuben Sandwich is a hot, gooey sandwich. It will be the most flavorful Reuben sandwich you have ever tasted.
It is loaded with 3 layers of juicy corned beef, sauerkraut and dressing between cheese and a crispy, buttery bread.
Use the leftover Corned Beef from your Corned Beef and Cabbage to make this Gourmet Reuben Sandwich.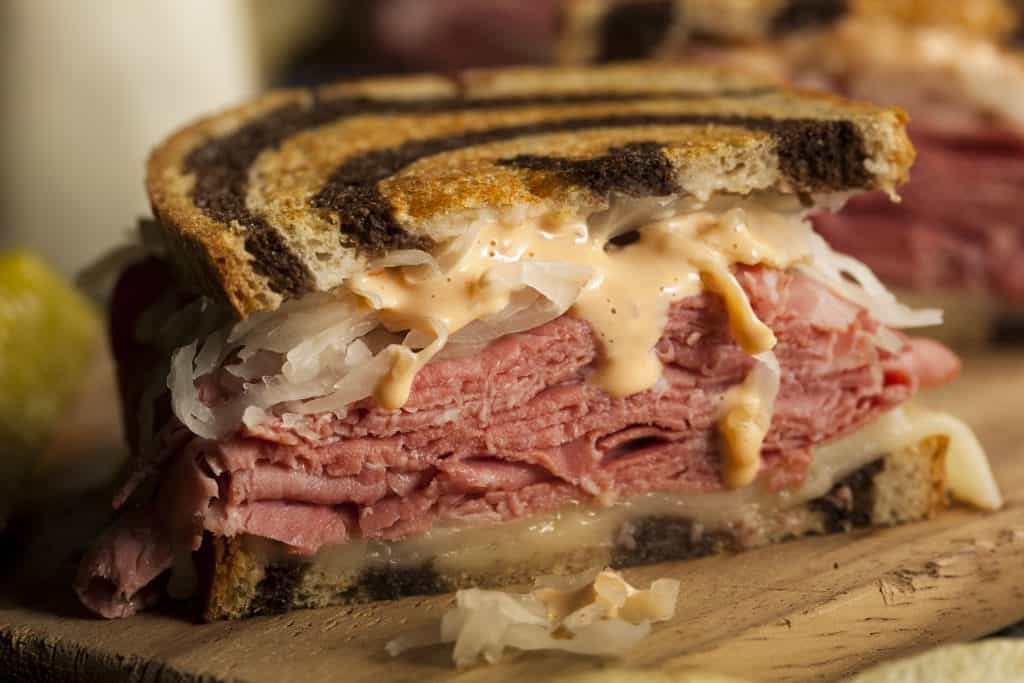 Gourmet Reuben Sandwich
This Homemade Gourmet Reuben Sandwich is hot grilled sandwich. It is gooey, stuffed with corned beef, sauerkraut, dressing, and cheese between crispy, buttery bread.
Ingredients
For the Reuben Sandwich
1/2

pound`

Thinly Sliced Corned Beef

2

slices

Rye Bread

2

slices

Gruyère cheese

1/4

cup

Sauerkraut, well drained

1

tbsp.

butter
Dressing
2

ounces

Thousand Island dressing

1/4

ounce

Dijon Mustard
Instructions
Dressing
Mix together Thousand Island Dressing and Dijon Mustard
For the Reuben Sandwich
Make 3 layers of the Corned Beef. Each layer has thinly sliced Corned Beef, Sauerkraut and Dressing. Put the rest of the dressing on one side of the Rye Bread Slices.

Put the layered Corned Beef on a roasting pan and add water until bottom of the meat is covered. Place in oven for approx. 10 minutes or until corned beef is hot.

Melt a tbsp. of butter in a sauté pan. Turn heat to low and add the rye Bread slices with dressing facing up. Add a slice of cheese to each side of bread. Move each piece of bread around the pan to soak up all the butter. Once bread is toasted, remove from pan.

Once corned Beef is hot, assemble your sandwich.
Gourmet Reuben Sandwich